Company Information
【Representative】
Shoko Tachiki, President
【Address】
7-4-11-504 Toyo, Koto-ku, Tokyo 135-0016, Japan
【Phone number】
81-3-3640-7388
【Mobile number】
81-80-3012-7388
【Foundation】
January 23, 2013
【Services】
Recruitment, Employment support to foreign engineers, Cross-cultural Training, Language support
【Range of Region】
Japan and World-wide, prioritizing to Philippines

Our Philosophy
We support your career to step up with our training program with various perspectives
We are aiming the world where various ways of working become normal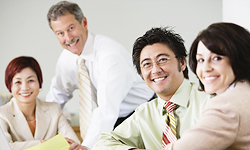 We are aiming a happy society working together with man and woman, young and senior, Japanese and foreigners. AtConicerge extends our hands to you in cross-cultural understanding and communication.

Profile
Careers
| | |
| --- | --- |
| 2013-present | Founded AtConcierge in 2013 as a sole proprietorship, specializing in employment support of engineers outside Japan, especially Philippines, from recruiting, obtaining work visa, and administrative management. |
| 2006-2010 | Having served for two years as HR Manager and Recruiter at the Japanese subsidiaries of Singapore company (Jurong Engineering, a subsidiary of IHI, Japan). Moved to a foreign affiliate Natco Japan as a Administration Manager for two years. |
| 1989-2004 | Having served for 16 years as an administrative assistant for a division director of Japan branch of SRI (Stanford Research Institute) International. |
| 1969-1989 | Having served for several Japanese organizations as a bilingual office professional. |
Challenge in life
I do not concern myself with social status like prestige and age. I broke through the severe Japanese age discrimination through finding jobs. As my child care period approached to completion, I entered a school to study business administration and management in English. I was re-employed by the American organization at the age of 38. While I work there I got bachelor's degree of liberal arts. It was at my age of 54 years. I got 885 scores of TOEIC, English test when I was 57 years old. Finally I founded my own business at the age of 63 after the retirement.
Acquisition of qualification
TOEIC 885 scores, Level 2 of Secretary skill test, C Class of Business English Test of Tokyo Chamber of Commerce and Industry
Membership of professional institutions
Japan Secretaries and Administrative Professionals Association
Tokyo Chamber of Commerce and Industries